21 | Fringe | Finite Incantatem
Sawyer
Head of Recruitment and Training
Madison, FL
confused
Played by
Vicky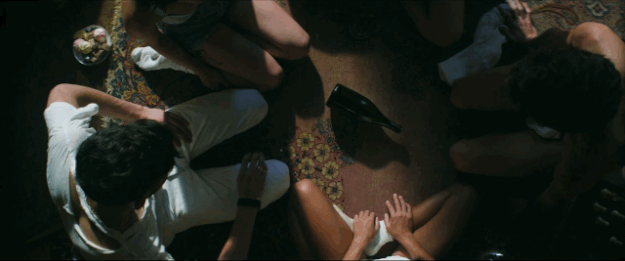 Sawyer was at least 62% sure that Mack had stolen all this booze from Lucas's closet, but she didn't have enough fucks to give about that O'Brien, so she drank away. As far as she'd counted, there was a bottle of vodka, two of tequila, one of some fancy ass wine, and something called Disarono (whatever the fuck that was). But she'd settled on her own poison - a red plastic cup with OJ, spiked rather heavily with bourbon. Must have something to do with his sad love life.
On a side note, Lucas had a problem that seemed to extend beyond his little coffee issue.
She was settled on a beaten couch in Finite's so called "living room" now - a vast and dusty space with thick red curtains that blocked out most of the light, a fireplace that was more clinker than coal, and a carpet which seemed to swallow your feet when you stood on it. It was a thoroughfare more than anything - connecting the kitchen to the few bedrooms, the balcony and the foyer, Lucas's office and the storage closet.
Someone had put on music now - Lana Del Ray, if she wasn't mistaken. The soft, almost psychedelic lull had her inhibitions trickling down her throat and dissolving in the acid of her stomach. A haze of otherness filled Sawyer's vision.
My pussy tastes like Pepsi Cola...
People had begun to settle down in a rough circle on the carpet, the couch she was on conveniently a part of the shape. Mack as saying something, but the buzz in her head drowned out most things... She saw Keegan open the door and welcome Emerence in, Riley meandering with a slightly drunken sway, Effie and Stubbe murmuring to each other in low voices -
Sawyer went back to her drink. She wondered mildly if the alcohol denatured all the Vitamin C maybe she'd ask Riley.
TAG @RILEY ARDEN @BECKHAM SINCLAIR @KEEGAN O'BRIEN @EMERENCE PYKE @SEBASTIAN STUBBE @EFFIE FONTAINE @CHRISTOPHER SHEN @MACKENZIE ROOKER